Scala Files and tuning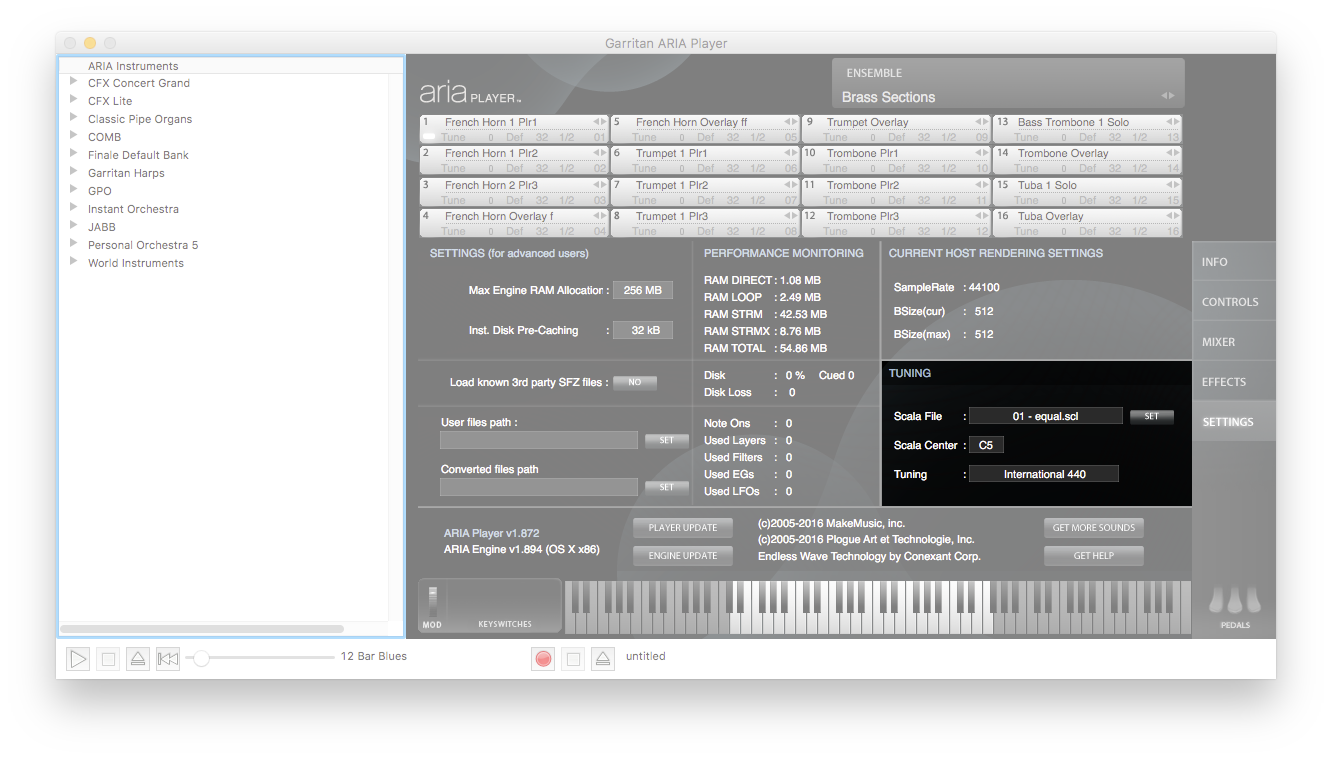 What they do
The ARIA Player uses Scala files (SCL) to achieve many scales and temperaments. Scala files are a commonly used standard for defining scales and temperaments, and a number of common and historical tunings are already included with your installation. The common tuning standard of Equal Temperament is selected by default.
To use a different scale or temperament
The tuning options chosen in the Settings view affect every instrument slot. In addition to setting an overall tuning system, instruments can be tuned individually using the instrument slot tuning controls.
Click the Settings button. The Settings view appears.
In the Tuning section, click the Set button . The Please select Scala file dialog box appears.

Scala files on Windows can be found in C:\Program Files\Garritan\ARIA Player\Scales.
Scala files on Mac can be found in Macintosh HD/Applications/Garritan ARIA Player/Scales.

Select the desired Scala file (SCL) and click Open.
Click the Scala Center menu, and then select the base note for your selected temperament or scale.

Just intonation with C5 as a center will sound different than just intonation with E4 as a center. The octave designation that follows the pitch name is important when there are either more than 12 or less than 12 pitches within an octave.

Click the Tuning menu to choose a pitch standard for A4 from the list, ranging from 380 to 451 Hz. By default, this is set to International 440 (A4 = 440 Hz).


Scala file reference
Scala is a standard file format for defining musical temperaments and tunings. The ARIA Player includes sixteen Scala files that can be used as preset tunings. Scala files are editable and you can create your own; more information can be found at http://www.huygens-fokker.org/scala/scl_format.html.
Filename
Description
Scale degrees
Tuning
01 - equal.scl
Twelve-tone equal temperament
12

Equal Temperament

100.0
200.0
300.0
400.0
500.0
600.0
700.0
800.0
900.0
1000.0
1100.0
2/1

broadwood_best.scl
Form of Victorian temperament (1885), Broadwood's Best (Ellis tuner number 4)
12

Broadwood Best

96.0
198.0
298.0
393.0
500.0
595.0
700.0
797.0
895.0
999.0
1094.0
2/1

carlos_alpha24.scl
Wendy Carlos' Alpha scale with perfect fifth divided in nine, in two octaves
24

Carlos Alpha

78.0
156.0
234.0
312.0
390.0
468.0
546.0
624.0
702.0
780.0
858.0
936.0
1014.0
1092.0
1170.0
1248.0
1326.0
1404.0
1482.0
1560.0
1638.0
1716.0
1794.0
1200.0

carlos_circular.scl
Wendy Carlos' optimized Werkmeister-style "Circular" temperament
12

Carlos Circular

92.0
197.0
297.0
392.0
500.0
591.0
699.0
794.0
894.0
999.0
1091.0
2/1

fifth_comma_meantone.scl
1/5-comma meantone scale
12

Fifth-Comma Meantone

83.576
195.307
307.039
390.615
502.346
585.922
697.654
781.230
892.961
1004.693
1088.269
2/1

just_intonation.scl
Basic just intonation with 7-limit tritone
12

Just Intonation

16/15
9/8
6/5
5/4
4/3
7/5
3/2
8/5
5/3
9/5
15/8
2/1

kellner_bach.scl
Kellner's temperament, modified Werckmeister III
12

Kellner

90.0
194.4
294.0
388.8
498.0
588.0
697.2
792.0
891.6
996.0
1090.8
2/1

kirnbergerIII.scl
Kirnberger III
12

Kirnberger III

90.0
193.0
294.0
386.0
498.0
588.0
697.0
792.0
890.0
996.0
1088.0
2/1

lehman-bach.scl
Brad Lehman's Bach keyboard temperament
12

Lehman Bach

98.045
196.090
298.045
392.180
501.955
596.090
698.045
798.045
894.135
998.045
1094.135
2/1

pythagorean.scl
12-tone Pythagorean scale
12

Pythagorean

2187/2048
9/8
32/27
81/64
4/3
729/512
3/2
6561/4096
27/16
16/9
243/128
2/1

quarter_comma_meantone.scl
1/4-comma meantone scale. Pietro Aaron's temperament (1523). 6/5 beats twice 3/2
12

Quarter-Comma Meantone

76.04900
193.15686
310.26471
5/4
503.42157
579.47057
696.57843
25/16
889.73529
1006.84314
1082.89214
2/1

rameau.scl
Standard French temperament, Rameau version (1726), C. di Veroli, 2002
12

Rameau

88.33435
193.15686
297.97936
5/4
503.42157
584.84714
696.57843
792.15686
889.73529
1001.46657
1082.89214
2/1

sixth_comma_meantone.scl
1/6-comma meantone scale (tritonic temperament of Salinas)
12

Sixth-Comma Meantone

88.594
196.741
304.888
393.482
501.629
590.224
698.371
786.965
892.112
1003.259
1091.853
2/1

temperament_ordinaire_II.scl
French 18th century temperament ordinaire II (1/6)
12

Temperament Ordinaire II

86.0
196.0
292.0
392.0
498.0
588.0
698.0
788.0
894.0
996.0
1092.0
2/1

werckmeisterIII.scl
Andreas Werckmeister's temperament III (1681)
12

Werckmeister III

90.225
192.180
294.135
390.225
498.045
588.270
696.090
792.180
888.270
996.090
1092.180
2/1

young_1799.scl
Thomas Young well temperament (1799)
12

Young

93.9
195.8
297.8
391.7
499.9
591.9
697.9
795.8
893.8
999.8
1091.8
2/1